An older church population
The proportion of Australian church attenders aged 60+ (48%) is much higher than the proportion of people aged 60+ in the general population (26%).
Denominations with higher proportions of older attenders (aged 60+) in their churches include Uniting (67%), Lutheran (58%), Catholic (55%) and Anglican churches (51%). In contrast Pentecostal churches have only 21% of their attenders aged 60+.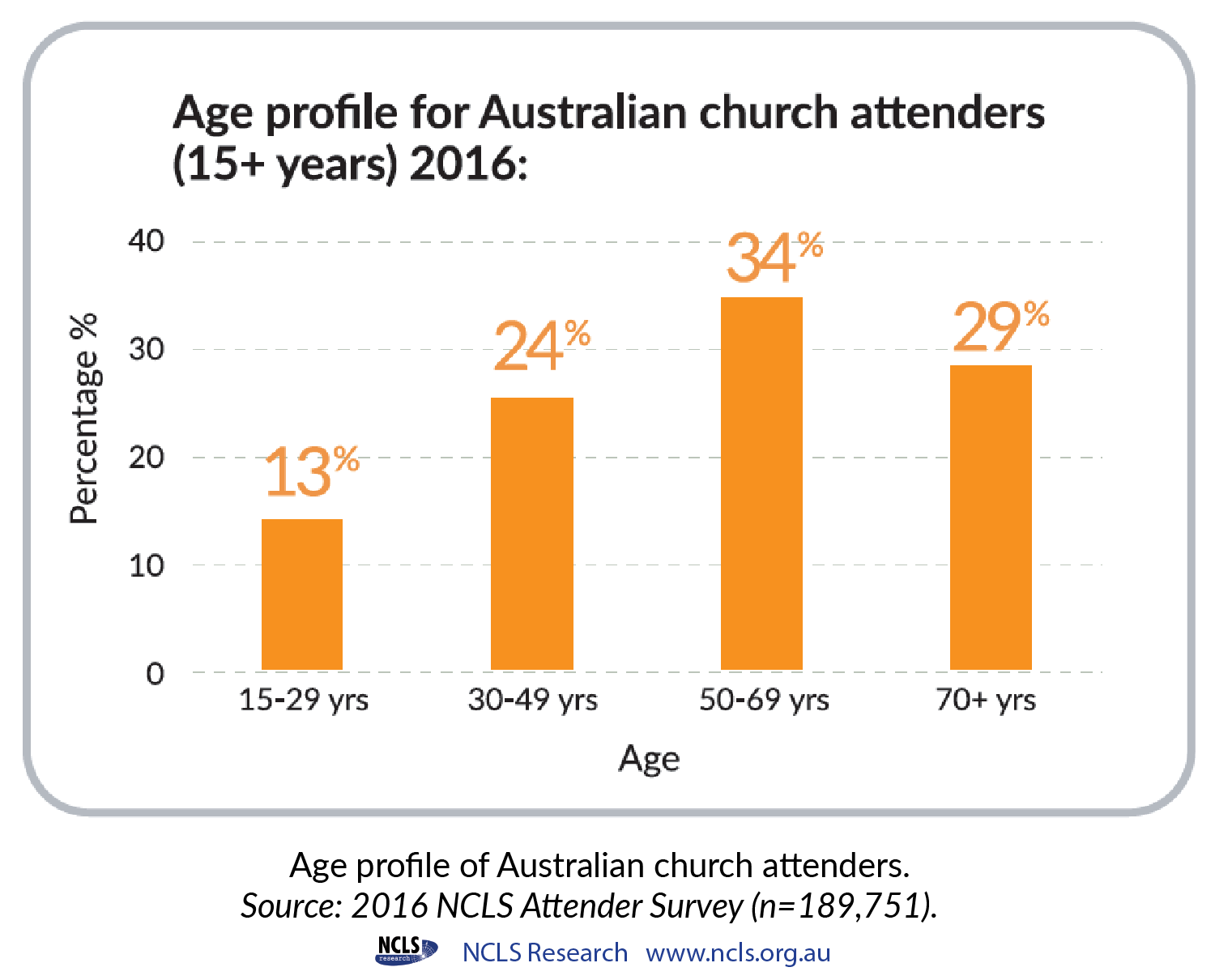 Where are the young people?
If you walk into some churches they look hipper than a TV soap: tweets, hipsters, espressos and play zones. These churches have retained their youth and young adults and thus, closely match the age of the general population.
Pentecostal churches have the highest proportion of young attenders, with 24% aged between 15 and 29 (while Australian churches on average have 13% of their attenders aged 15-29).
In fact, Pentecostal churches are the only denomination who match the broader Australian population age profile for younger people (24% of Australian population are aged 15-29**). **Comparing persons aged 15+. *See 'Age profile' article for more community comparisons.
Baptist churches have 18% and 'other Protestant' churches (including Baptist, Churches of Christ, Christian Reformed, Salvation Army, CityLife Church) have 17% of their attenders aged 15-29 in 2016.
Totals may not add to 100% due to rounding.
Churches face the ministry question: how to minister to ageing people as well as connect more effectively with younger people?
NCLS research has long affirmed the importance of churches retaining younger attenders to build a sustainable future. There is also a missional imperative that churches should welcome and include people of all ages in their local community.
At the same time, NCLS research encourages health and vitality in all churches, including those with seniors ministry as their primary focus. While acknowledging limitations, building on each congregation's unique strengths can nurture vibrant life-giving connections between older members of a community.
While the Australian population continues to age, with the elderly making up an increasing proportion of society, those denominations with established ministries for older residents may find their activities and experience of value to offer their local communities.
Intergenerational connections
Social trends are showing that families are forming and reforming, with increasing flexibility. Some family households are multigenerational with grandparents and older relatives taking an active role in caring for younger generations.
Some churches are responding to changing social dynamics by encouraging intergenerational connection, with activities such as grandparents' and grandchildrens' playgroups, or via mentoring programs in local schools.
Many denominations with an older age profile also have schools and community care ministries. As a result they have weekly contact with younger people via education and social welfare activities in their local community. How these activities link to congregational life is a continued challenge and opportunity.
Many churches have conversations about missing age groups at church or, indeed, in their community. Should churches aim to accurate reflect their surrounding community in terms of age diversity? Or use the strengths of their congregants to reach similarly aged people? 
The conversation continues.
N.B. Figures are calculated on the population aged 15 years and over.
Totals may not add to 100% due to rounding.